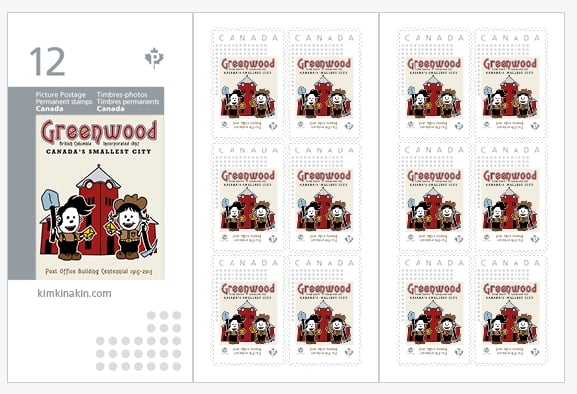 GREENWOOD stamps
by Greenwood
$

24.00

/ Sold Out
---
GREENWOOD stamps
Post Office Building Centennial 1915-2015
Booklet of 12
Limited edition stamps with the Greenwood/Founders Day icons, Prospect or Pete & Nugget Nancy (with letters in hand), as they approach the Greenwood Post Office Building.
TEXT on booklet cover/stamps:
Greenwood
(small text) British Columbia Incorporated 1897
CANADA'S SMALLEST CITY
Post Office Building Centennial 1915-2015
The stamps will NOT be available individually - just in booklets of 12
This offer is only available till Nov 29th when I will place the final order.
Great gift idea for stamp collectors, collectors in general and fans of Greenwood.
-----
Each stamp is valued at the current domestic rate and can be used to mail a standard-size envelope weighing up to 30 grams anywhere in Canada.
Additional Information
Type: Booklet of 12 stamps
Orientation: Portrait
Paper: Coated one side
Postage Rate: For mailing within Canada*
*Please refer to the Canada Post website for everything you need to know about sending mail within Canada, to the U.S.A. and internationally.
Includes 12 self-adhesive stamps, plus a front cover.
NOTE: PERMANENT Domestic means the stamp will always holds it's value for domestic use within Canada up to 30 grams. If the cost of stamps goes up in the future - these stamps will still be valid!
--------
Thanks for supporting this project
- Kim Kinakin
PLEASE NOTE - The visuals of the stamp provided on this site show original artwork detail. As these will be printed less than 1" in size - some of the details and text may not be visible on the final printed stamps - though all artwork should be a visible on the cover of the booklet itself.